Ruth
"Women's backs are naturally beautiful. We don't adorn them with makeup and generally keep them mostly covered. Yet, in reality, we are proud of them, they are the unseen support and strength of all we do."

Ashley
"Looking at my body from a point of view I had never really seen before was frightening. My first thoughts were of shame and frustration. Shame because it was almost as if I were another woman judging myself. Frustration because I don't think I've ever been completely happy with my body as it is. Then there was an overwhelming feeling of freedom, acceptance, and peace for the woman I am. Women carry so much weight, metaphorically, on our shoulders and backs and this portrait gives me great pride to be among a gender so strong. It took a moment, but I was liberated in a way, by looking at myself from behind."
Jessy
"I was drawn to this project because of the concept—female. Feminine. Femininity. I grew up much the opposite of what society traditionally associates with these words... my formative years were shaped by older brothers who I envied, running on fields and courts, competing and sweating and getting dirty. Summers at camp, on my bike, throwing the ball in the backyard with my dad and swimming in bodies of water until my skin raisined. I was your quintessential tomboy. And much of how I identify as an adult is still the high tops and ponytail yielding loudmouth of my youth. But I have always had incredibly rich relationships with women throughout my life—and that is what I love most about being female. The deep, unwavering bonds I've formed with my mama, the girls I grew up playing sports with, my ride or die ladies from college, and the brilliant, inspiring women I've worked with professionally along the way. Female, for me, is about honoring those relationships. And keeping them close. Because my boyfriend and my dog are both dudes, and they are no question the loves of my life—but there is nothing quite like the connection between two women who love one another."
Terra
"Be bold & willing to be stretched

in your faith
in rebuilding
in loving others AND yourself
in the goals you've set
in giving of your time & resources
in loving your city
in shining your light

Be the woman God created you to be.
Bold & Beautifully strong."
Leslie
"Hair, once curly, now relaxed with age and laced with silver strands. Neck, adorned with wedding jewelry made, lovingly, by a friend. The clasp, a butterfly, symbol of transformation. Shoulders, kissed by sun while cheering from the sideline. Back, straight, grown strong from carrying responsibilities and woes. Curves, inviting caresses, giving pleasure. Hips, widened to make way for new life. My body, a canvas where the story of my life is being written."
Laura
"It's a way to look from another angle, through the sensitive lens of someone else's eyes, your eyes already trained to find the imperfections in your own body after years of being bombarded with "perfect" images of "perfect" women, utopian.

We are not them. And we shouldn't even want to be, as our differences are much more beautiful and valuable than the stereotypical white-skinny-blonde-impossible that we are sold. We are all beautiful, whether we are white, black, yellow, green, red, blue, skinny, chubby, the shape of a pear, banana or apple, with straight, unruly, curly, short, long or colorful hair! Our differences tell stories, a lot of them. And each history has its own beauty."
Rachel
"Among your mess & in all of your magic, you are worthy of knowing and loving. Give yourself permission to be you, without filter- in this very moment and every one after"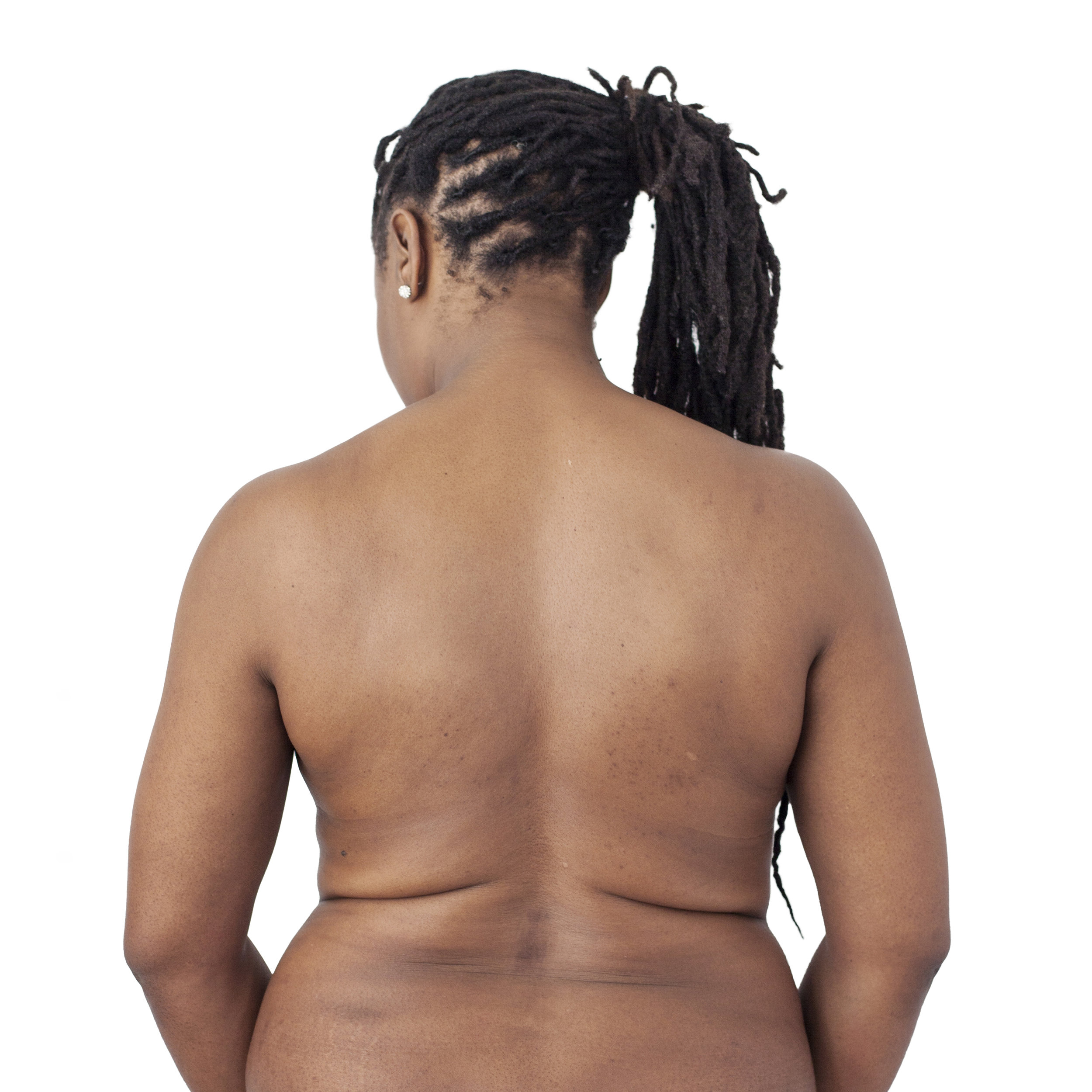 Brianna
"I hold my emotional stress in my back, and I feel varying levels of tension every day.
In this moment I was feeling insecure—"Is this angle flattering?" "What if I don't like the photo?" "What is the photographer thinking?" "Am I doing enough? Being enough? Why can't I do it all?" But when I look at this picture, even though my mind was racing and jagged in thought, even though I was feeling anxious and my back was tight, I see a mellower side of myself. I see stillness. I see tenderness.
It's a reminder to me that life is full of contrast—of joy and sorrow, bravery and fear, confidence and insecurity. That anger and laughter and comfort and heartache are normal. That it's about learning—over and over and over again—how to stand still, as I am here, and embrace it all. It's about learning how to stand or sit or lie, maybe even curl up and cry, with what is and work with it, not against it.
For when I accept my darkness and make an effort to understand it, it ends up giving me light.
This, to me, is the most beautiful paradox in life."
Kamesha
"My initial reaction to the photos was one of shock, and it quickly turned into disappointment and shame. My once, strong, toned back, is now soft with folds and some sagging, brought on by gaining 50lbs during pregnancy some 12 years ago. It is hard to process. I used to be an athlete, I exercised regularly. I held that strong, toned shape of my body dear to me. Maybe it was/is vanity. I keep thinking that I'm a mother, I should be happy that my body was sacrificed to bring another life into the world. And 99.99% of the time that's how I feel. But seeing my soft, shapeless back, brought up that 0.01% that wishes things were slightly different."
Megan
"I am a voice of the unheard and the essence of humanity.
I give my entire being to the world.
Mind, body, soul, spirit, energy.
It will form the most incredible gem that exists in all of us.
You are remarkable and a rare natural phenomena.
Keep smiling. Stay positive. Move strongly forward.
Stand bonded together as a community.
The way we can contribute to a better tomorrow is by being friendly.
Stand up for those being mistreated.
Turn away from behavior you don't stand for.
The change starts with you.
Don't find something to complain about, listen to all that surrounds you that is good.
It is a miracle our life forces live within us.
Smile.
Be friendly.
Say hello.
Start a conversation."
Denise
"My body: my color, blemishes, moles, bones, hair, skin ... Body! The house of my soul overflowing with stories..."
Dana
"First thought: Negativity. I only see the rolls, the skin, the paleness of it.
Then: Strength. This body carried twins. Does bootcamp daily. Takes me through the world.
I've always feared being photographed. As if somehow that photo is different from the real person. That somehow it shows flaws that people can't see in real life.
Ultimately, I see a person who is working on bettering herself. One day at a time, without forgetting that I am a fabulous mother, wife and friend."
Shikha

"I've been a swimmer my whole life, and so I've seen my skin turn all sorts of different tones of brown. I used to be embarrassed by it—when I'd go visit family in India, they'd note my my larger shoulders and my dark skin as a sign of spending too much time outside. But as I see myself from the back, I love it. I feel strong, and I wouldn't give it up for anything."
Dioni
"I'm not someone who fits into a stereotypically feminine space, but being a woman is something I take great pride & power in...especially in a world that is so often asking us to make excuses for ourselves as we move through the world. There is no one way to be a woman & in that collection of diversity of shapes, presentations & ideals we have an incredible community of power."